How can sourdough bread help our gut microbiome?
There are trillions of microbes residing in our gut, known as the gut microbiome, play a paramount role in our overall health?
Science has uncovered fascinating insights into the vital functions of this microscopic community, influencing everything from digestion to skin health to even our mental well-being. Why is it imperative to nurture a healthy gut microbiome for our well-being?
Our gut microbiome aids in nutrient absorption, breaking down complex food molecules that our bodies struggle to digest independently. Friendly microbes in the gut produce essential vitamins, such as B vitamins and vitamin K, crucial for energy production and blood clotting, respectively.
Additionally, a balanced gut microbiome supports a robust immune system, defending against harmful bacteria and viruses.
Moreover, the gut microbiome actively communicates with our brain through the gut-brain axis, affecting our moods and mental health. Studies have linked an imbalanced gut microbiome to mental health disorders like anxiety and depression.
Sourdough bread is a great source of vitamins B and E, as well as minerals like iron, selenium, and manganese.  
These vitamins and minerals, play essential roles in mental health, carrying oxygen, immune function, thyroid health, protecting against free radical damage, and production of collagen.
Consuming sourdough bread can promote or increase specific strains of beneficial bacteria. Souring the dough through the fermentation process creates an environment favorable for the growth of lactic acid bacteria (LAB) and wild yeast.
These microorganisms play crucial roles in sourdough fermentation and can have various health benefits.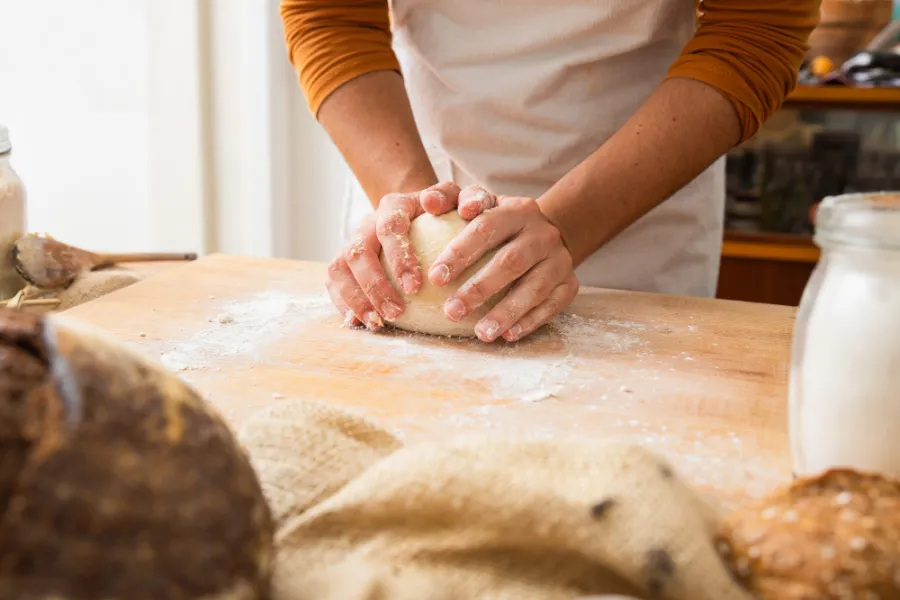 5 Benefits of Sourdough Microorganisms
1. Fermentation:
Sourdough bread is made through a lengthy fermentation process, in which naturally occurring lactic acid bacteria and wild yeast cultures break down the carbohydrates and proteins present in the dough. These beneficial bacteria, such as lactobacilli and bifidobacteria, produce lactic acid, acetic acid, and other organic acids during fermentation. These organic acids create an acidic environment that supports the growth of beneficial bacteria in the gut and inhibits the growth of harmful pathogens.
2. Prebiotic fibers:
Sourdough bread often contains prebiotic fibers, which are non-digestible carbohydrates that promote the growth and activity of beneficial gut bacteria. These fibers, such as fructans and resistant starches, act as food sources for the beneficial bacteria in the gut, stimulating their growth and enhancing their diversity.
3. Enhanced nutrient absorption:
The fermentation process in sourdough bread breaks down complex carbohydrates and proteins, making them more easily digestible and absorbable by the body. This increased nutrient bioavailability allows for better absorption of essential nutrients, which promotes overall gut health.
4. Reduction of anti-nutrients:
Sourdough fermentation also reduces the levels of certain anti-nutrients found in grains, such as phytates and lectins. These anti-nutrients can interfere with nutrient absorption and may cause gut irritation. The fermentation process helps neutralize these compounds, making the nutrients in sourdough bread more accessible to the body.
5. Reduced gluten content:
While not entirely gluten-free, the fermentation process in sourdough bread helps break down gluten proteins to some extent. This may benefit individuals with gluten sensitivity or intolerance, as fermented sourdough bread can be better tolerated compared to regular bread.
Research suggests that specific gut microorganisms can play a role in the development of common skin conditions such as acne or eczema.
The exact mechanisms by which they influence these conditions are still being explored, but several potential factors have been identified:
1. Inflammation:
Certain gut bacteria can affect the immune system's response, leading to chronic low-level inflammation. Inflammation is a common characteristic of skin conditions like acne and eczema, and an imbalance in gut bacteria may exacerbate this inflammation, contributing to their development.
2. Gut permeability:
Disruption in the gut's protective barrier, known as increased gut permeability or "leaky gut," can allow toxins, bacteria, and other substances to escape into the bloodstream. These substances can potentially trigger an immune response that affects the skin and contributes to conditions like acne and eczema.
3. Allergic reactions:
Imbalances in gut bacteria may influence the immune system's response to allergens. This dysregulated immune response can lead to the development or worsening of allergic skin conditions, such as eczema. Additionally, some gut bacteria produce metabolites that can affect the skin, potentially triggering inflammation or allergic reactions.
4. Hormones:
Gut microorganisms can influence the production and regulation of certain hormones, such as those involved in the metabolism of androgens (hormones that can contribute to acne development). Some studies have linked specific gut bacteria to an increased production of androgens, potentially impacting the development of acne.
The starter is the cornerstone of successful sourdough baking
Do You Want To Make Your Own Sourdough Starter?
A sourdough starter is a mixture of flour and water that contains beneficial bacteria and wild yeasts. It is regularly refreshed and used to leaven and flavor bread dough. Caring for and using a starter is essential for achieving the best flavor, texture, and shelf life in sourdough bread.
Send me an email at info@simplytiffs.com or fill out the form below and I can walk you through it.